Cables for PROFIBUS industrial network
We used to offer many different types of cable, for example oil-resistant cables, slack-resistant cables, cables resistant to rodents, EMI-resistant cables, etc. Gradually, we found out that most of our customers only need two types PROFIBUS cable – the standard non-flexible and flexible.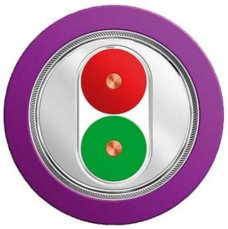 In stock
Code: 6XV1830-0EU10
16 EUR
excl. VAT
(1,60 EUR/m)
19,40 EUR
incl. VAT
Standard fixed cable for PROFIBUS DP, designed for normal indoor network installation without the requirement for cyclic cable bending. The…
In stock
Code: 2170222
38 EUR
excl. VAT
(3,80 EUR/m)
46 EUR
incl. VAT
Flexible cable for PROFIBUS DP networks, designed for use in more demanding conditions, requiring e.g. cyclic cable bends, resistance to…
In stock
Code: 6GK1905-6AA00
74,70 EUR
excl. VAT
90,39 EUR
incl. VAT
A handy tool for those who often install and reinstall PROFIBUS networks (assemble and reassemble PROFIBUS connectors, repeaters, etc.).